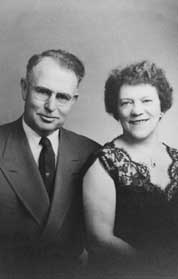 GEICO History:
GEICO is built on ingenuity, perseverance, innovation, resilience and hard, honest work. From its humble beginnings in the midst of the Great Depression to its current place as one of the most successful companies in the nation, GEICO represents a quintessential American success story. Take a moment to review GEICO's milestones, or
read the whole story
and learn about the colorful people and events behind GEICO.
GEICO Milestones
1936 - GEICO is established by Leo and Lillian Goodwin.
1948 - Investment banker Lorimer Davidson joins the company and expands its pool of investors.
1951 - Columbia University business student Warren Buffett makes his first purchase of GEICO stock.
1958 - Leo Goodwin retires and is succeeded by Lorimer Davidson.
1959 - GEICO opens its new headquarters in Chevy Chase, MD.
1964 - GEICO passes the 1 million policyholder mark.
1965-1966 - GEICO insurance premiums reach $150 million; net earnings double to $13 million.
1980 - GEICO introduces 24-hour a day, 365-days a year telephone customer service.
1993 - New chairman Olza "Tony" Nicely implements a new strategy to expand the customer base; increased focus on advertising results in higher national visibility.
1996 - Warren Buffett purchases outstanding GEICO stock, making GEICO a subsidiary of Berkshire Hathaway, Inc.
2000 - The
beloved Gecko®
makes his debut in a wildly popular GEICO ad campaign.
2002 - GEICO passes the 5 million policyholder mark.
2004 - The GEICO Caveman enters the scene with the "So easy a Caveman can do it" ad campaign.
2007 - GEICO passes the 8 million policyholder mark.
2009 - GEICO passes the 9 million policyholder mark and opens for business in Massachusetts making GEICO coverage and services available in all 50 states and the District of Columbia.
2010 - GEICO passes the 10 million policyholder mark. GEICO is the first insurance company to offer the ability to purchase a policy in a mobile-friendly format via iPhone and Android mobile devices.
2012 - GEICO passes the 11 million policyholder mark.
2013 - GEICO surpasses 12 million policies in force mark and insures more than 18 million vehicles.
Today - GEICO's assets have reached $28 billion*, and the company looks forward to even more growth, founded on quality coverage and outstanding GEICO customer service.
For you history buffs who love all the details, here's
the full story of GEICO
. From the dreams of one couple rose the company you know today.